I'm spending the next nine days at the Marine Biological Laboratory in Woods Hole, Massachusetts, as a Logan Science Journalism Biomedical Fellow. There are seven journalists on the biomedical course, and we're here to get a hands-on understanding of cell biology, development, model organisms, and genetics, by doing the science ourselves through experiments and imaging.
Today we officially met all the other fellows, including the environmental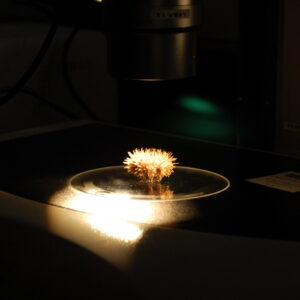 science fellows. (Of course, we all informally met last night at a certain bar that's well known among the 300 or so former Logan fellows.) We saw our lab space and got an intro to different model organisms. "Scientists start with a problem and a question, and then seek out model organisms," said course co-director David Burgess. For example, yeast is great for studying genetics, whereas frogs are good for studying embryonic development. We'll be working with sea urchins, which are good for studying fertilization, cell division, and development.
After tonight's evening lecture on embryo development and sea urchin biology, Burgess and course co-director Brad Shuster extracted some eggs tonight that they will fertilize so we have some embryos to look at in the morning. There's 12 hours of science on the syllabus for tomorrow, so that's all from me tonight. Stay tuned!