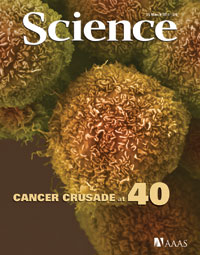 My latest story posted on Science Careers:
Oncologist David Solit, 41, has some close professional role models: His father was a surgeon and his grandfather a family practitioner. Like many doctors who pursue oncology, he became interested in the disease after a relative died from breast cancer. But it was a laboratory rotation during his oncology fellowship that sealed his interest in cancer research.

"My interest was not to stay in the clinic and try to use the drugs that we had, which, in my opinion, were not very good," Solit says. "I thought it would be best to stay in the lab and to try to actually develop some better treatments that we could bring into the clinic."

Now, Solit holds the Elizabeth and Felix Rohatyn Chair for Junior Faculty and heads his own laboratory in the Human Oncology and Pathogenesis Program at Memorial Sloan-Kettering Cancer Center in New York City. His lab studies a particular signaling pathway, the RAS/RAF/MEK/ERK pathway, which regulates cell growth and survival in several cancers. "We try to identify the underlying genetic basis of different tumor types and then develop novel therapies that will exploit the specific mutations that drive tumorigenesis or cancer progression," he says. Solit is the author of an upcoming Perspective in Science Signaling on MEK resistance, which will be published on 29 March.

Solit spoke with Science Careers earlier this month about his research and his career path. The following highlights from the interview were edited for brevity and clarity. A full transcript of the conversation is available on CTSciNet.
Click here to continue reading on the Science Careers Web site.
The article was part of a special issue of Science on cancer; see the list of all related content in all the Science publications at www.sciencemag.org/special/cancer2011/.